Narrow Aisle Pallet Racking
Narrow Aisle Pallet Racking systems have an aisle width of around 1.6 - 2.3 metres. This can free up between 30 - 40% of the floor space given over to aisles in a wide aisle scheme. Narrow Aisle specialist trucks typically have an articulated mast giving a net result of a much larger increase in space utilisation when compared with conventional reach truck applications.

The trucks turn in the aisles via the articulated mast and no guide rail or other guidance system is required. It should be noted that the tighter the operating clearances allowed in the aisle, the slower the general speed of operation will be. It is better therefore with such trucks to allow as much operating clearance in the aisle as possible without compromising the justification for the system.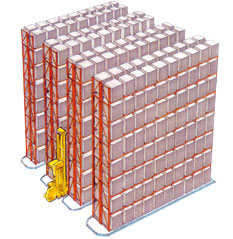 | | |
| --- | --- |
| | Aisle Width: 1.6 metres |
| | 45% Space Utilisation |
| | All Pallets Accessible |
| | High Throughput Speeds |
| | Specialist Forklift Trucks |