Galvanised Pallet Racking
Galvanised pallet racking offers a variety of adjustable storage solutions for palletised products. Manufactured in a top quality Galvanised finish, it is suited to external applications and harsh environments such as chill stores or environments with high moisture content in the air.
Frames are manufactured with single continuous uprights for maximum rigidity with 3 post types offering a large range of Racking Frame load capabilities.
Adjustable at a 75mm pitch this durable system offers the flexibility to accommodate any pallet size. We offer a choice of beams which guarantees a solution whatever the individual customer requirement and racks can easily be reconfigured to suit any ongoing changes to your stockholding requirements.
Heavy Duty Pallet Racking
Our experienced team at Redirack have the design and manufacturing capabilities to meet your exact storage needs. From wide-aisle pallet racking right through to very narrow aisle pallet racking systems, our engineers will guide you through the entire process.
Our full range is manufactured in the UK in accordance with the SEMA (Storage Equipment Manufacturers Association) Code of Practice for the Design of Adjustable Pallet Racking and can also be offered as a design conforming to
BS EN 155512:2020.
To find out more contact us on 01543 279543, Email: sales@redirack.co.uk or book a site visit.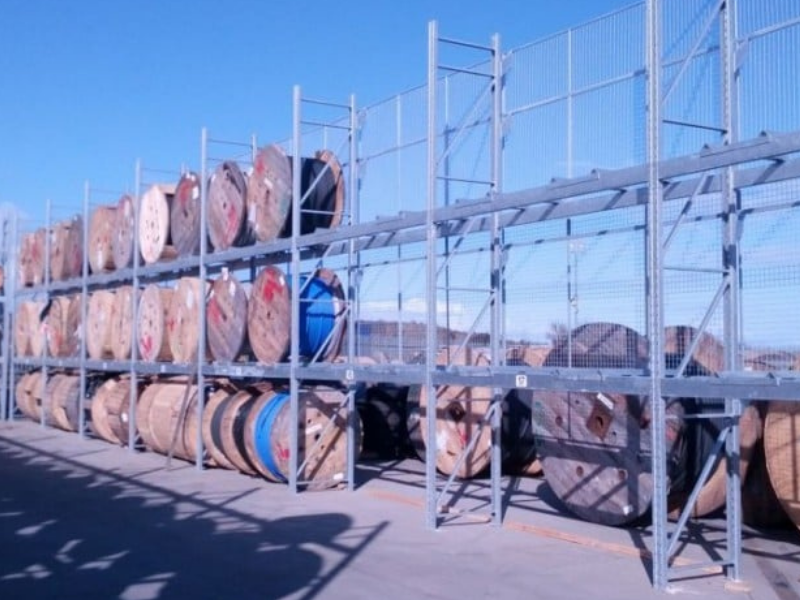 Frequently asked questions
Galvanised racking is used in a variety of different industries. Some of the most popular being food & beverage and the Pharmaceutical & Chemical Industry, due to being able to be used in cold storage environments.
.
Redirack have their own in-house teams of installers that are very experienced at ensuring your racks are installed both correctly and to SEMA (Storage Equipment Manufacturers Association) guidelines. Our installers are all SEIRS (Storage Equipment Installers Registration Scheme) registered, from advanced skills through to site management capability. We have our In-house SARI inspectors (Sema Approved Rack Inspectors) which means Redirack offer a complete service from assessing your site needs and inspections through to manufacturing and finally installation of your racks.
Book a Site Visit or Request a Quote
We design a solution and offer a competitive price.
Contact us for a site visit or request a quotation.
Our range is manufactured in the UK and installed by our in-house SEIRS (Storage Equipment Installers Registration Scheme) installation teams.