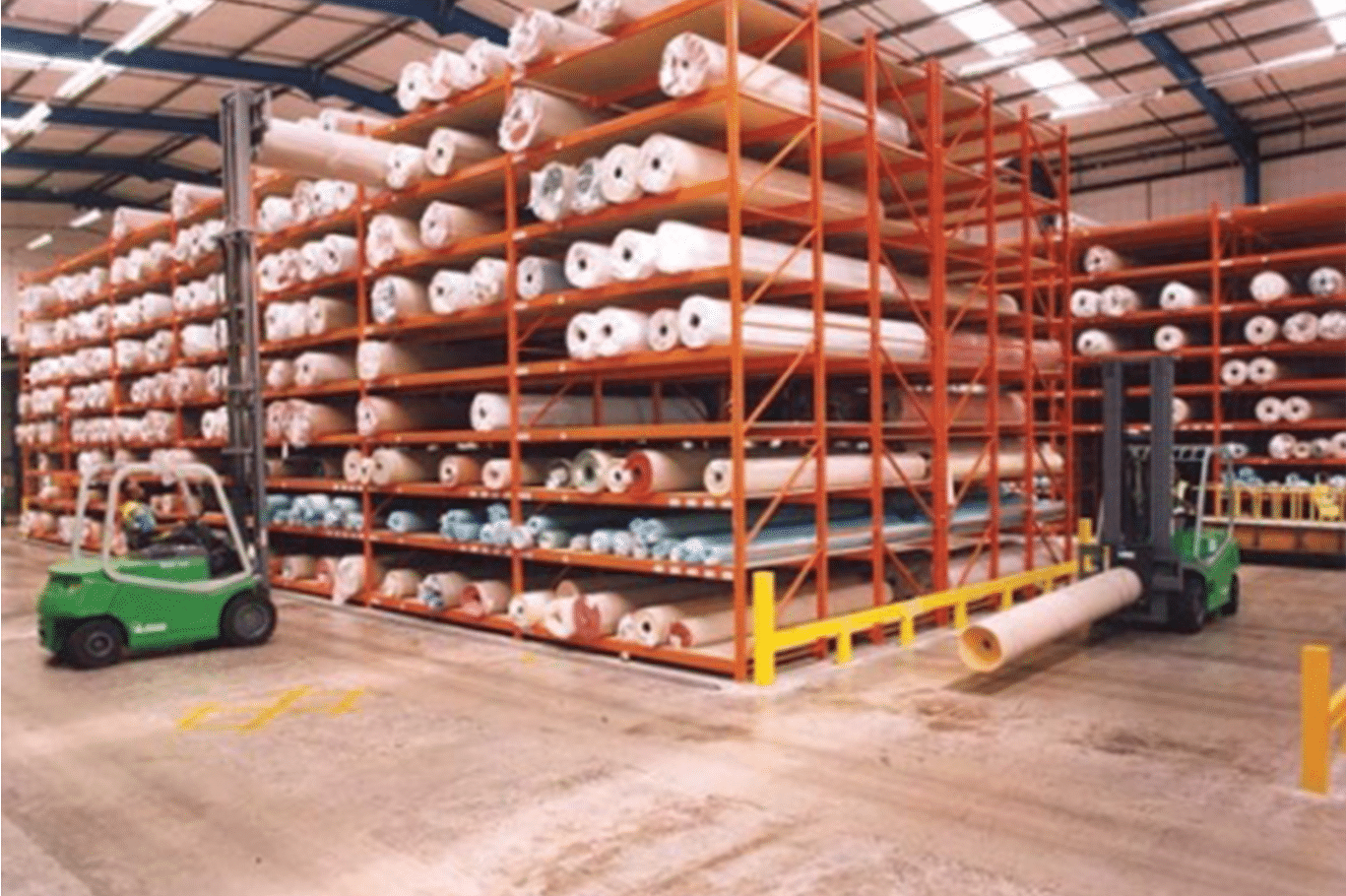 Carpet Racking utilises adjustable Pallet Racking Frames and Beams in a wide range of configurations to accommodate a wide variety of carpet lengths and roll diameters. As racks have to be sufficiently deep to accommodate the specific carpet stock requirements of your warehouse, Redirack Carpet Racks are designed on a bespoke basis.
Rolls are typically loaded end-on into the Racking system via a specially designed attachment on the fork lift or reach truck and the 75mm slot pitch in the Frame Uprights allows Beam levels to be positioned specifically to suit differing rolls diameters maximising use of available height.
Beam levels can be decked with Chipboard, Timber, MDF etc. to allow smaller carpets and off-cuts to be stored.
Carpet & Textile Warehouse Storage
Each system is designed on a bespoke basis, but there are similarities in many applications which include textiles, vinyl roll and artificial turf roll storage racks as well as packaging or any other items that are stored on a roll, providing a good basis from which to start the design process.
Advantages of Carpet Racking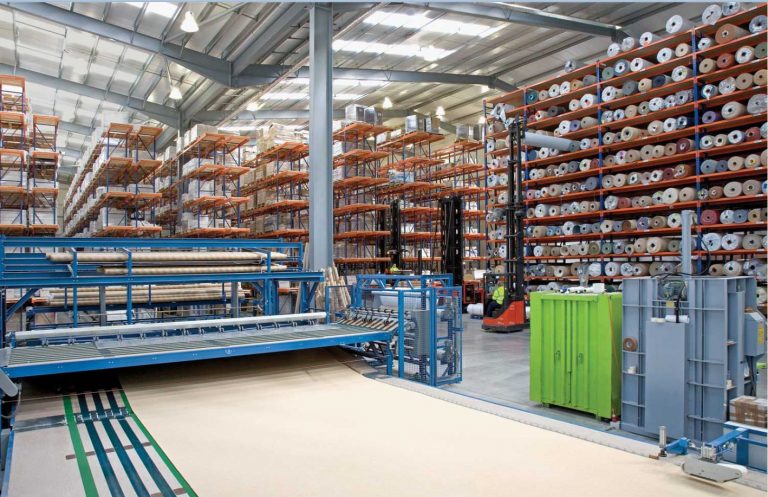 Our experienced team at Redirack have the design and manufacturing capabilities to meet your exact storage needs. From wide-aisle pallet racking right through to very narrow aisle pallet racking systems, our engineers will guide you through the entire process. Our full range is manufactured in the UK in accordance with the SEMA (Storage Equipment Manufacturers Association) Code of Practice for the Design of Adjustable Pallet Racking and can also be offered as a design conforming to BS EN 15512:2020.
To find out more contact us on Tel: 01543 279543, Email: sales@redirack.co.uk or book a site visit.
Carpet racking is most commonly used in the retail industry to store high quantities of carpet and textiles.
Redirack can create customised and adjustable racking to suit all your height and roll depth for your carpets.
Redirack have their own in-house teams of installers that are very experienced at ensuring your racks are installed both correctly and to SEMA (Storage Equipment Manufacturers Association) guidelines. Our installers are all SEIRS (Storage Equipment Installers Registration Scheme) registered, from advanced skills through to site management capability. We have our In-house SARI inspectors (Sema Approved Rack Inspectors) which means Redirack offer a complete service from assessing your site needs and inspections through to manufacturing and finally installation of your racks.
Book a Site Visit or Request a Quote
We design a solution and offer a competitive price.
Contact us for a site visit or request a quotation.
Our range is manufactured in the UK and installed by our in-house SEIRS (Storage Equipment Installers Registration Scheme) installation teams.