Adjustable pallet racking offers a variety of storage solutions for practically any type of palletised products you may wish to store. Our system is totally flexible and can be designed to meet precise or bespoke criteria without sacrificing cost-effectiveness.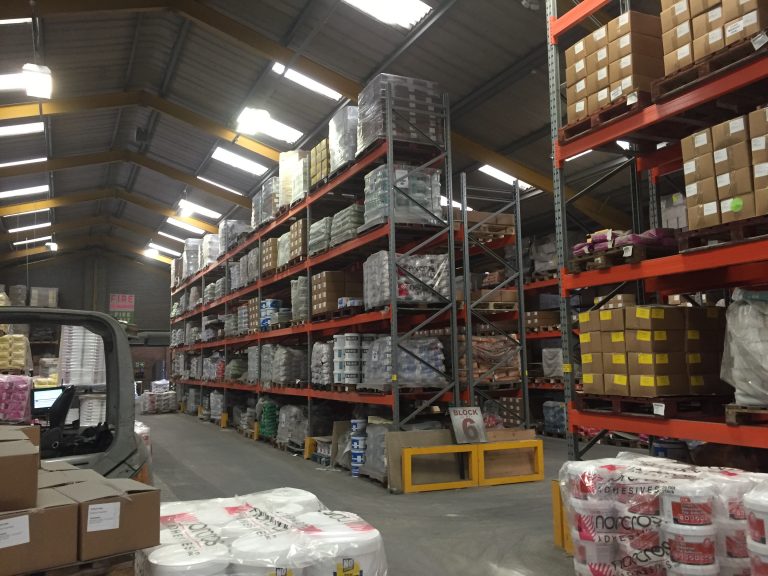 Warehouse and Yard Pallet Racking
Increasing space in your warehouse or yard facility with pallet racking enables you to increase profit and productivity by maximising on the space you have available. By taking up minimal floor space and storing vertically in this format forklift trucks can be used to access the pallets holding the stock.
Redirack's industrial pallet racking is made from high-quality steel materials and offers a sturdy and safe storage solution that should be fixed to the warehouse or yard floor when mechanically loaded. It is strongly recommended that employees follow all necessary safety requirements to ensure the safe movement of the stock on the racking as well as ensuring racks are regularly checked for damage.
Heavy Duty Pallet Racking
Our pallet racking systems are designed for strength and durability as well as ease of assembly. Our comprehensive range of frames and beams ensures that there is a solution for any storage challenge.
We always try to meet our customers' needs so if you have a specific pallet racking requirement, don't hesitate to contact us to see how we can help. Redirack's pallet racking is manufactured in accordance with the SEMA (Storage Equipment Manufacturers Association) Code of Practice for the Design of Adjustable Pallet Racking and can also be offered as a design conforming to BS EN15512:2020.
Pallet racking can be arranged in several different configurations, depending upon your storage, throughput and stock accessibility requirements. We also offer cantilever racking for storing long products. The full product range we offer at Redirack includes:
Frequently Asked Questions
Pallet racking is an industrial storage system that is specifically designed for storing any palletised products in warehouses, cold stores and yard environments. We cater for all pallet types including non-standard, Redirack's technical engineers are able to offer a solution that meets your requirements.
Pallet racking systems are manufactured from cold rolled steel sections and are comprised of a number of frames and beams. A frame has two upright posts that are connected together by a series of diagonal and horizontal braces. Beam levels are adjustable on a 75mm pitch to cater for different pallet heights. Bays are created by connecting several frames together with two or more pairs of beams per bay.
The capacity of a bay depends on the position of the beams within that bay. The greater the vertical distance apart, the lower the capacity of the bay. A bay that only has one pair of beams is fundamentally far less stable than a run of bays. We therefore do not recommend single bays due to the reduced stability of the racking structure and would generally advise against this if possible. Redirack offer a broad range of rack frames and beams our technical engineers are able to offer a solution whatever the storage issue.
Beam lengths in the UK are usually 2700mm as this accommodates two 1200mm wide UK pallets stored side by side with a 100mm clearance either side of the pallet. Redirack offers 3 post types of varying thicknesses which means we are able to offer a wide range of racking frame load capabilities.
If pallets are 1000mm deep and stored on 900mm deep frames it allows for a 50mm overhang front and back. Alternatively, pallets be stored 1200mm deep on 1100mm deep frames to allow racks to be used to store a combination of UK and Euro pallets. Other frame depths are available to cater for non-standard pallets.
Redirack have their own in-house teams of installers that are very experienced at ensuring your racks are installed both correctly and to SEMA (Storage Equipment Manufacturers Association) guidelines. Our installers are all SEIRS (Storage Equipment Installers Registration Scheme) registered, from advanced skills through to site management capability. We have our In-house SARI inspectors (Sema Approved Rack Inspectors) which means Redirack offer a complete service from assessing your site needs and inspections through to manufacturing and finally installation of your racks.