Wide Aisle Pallet Racking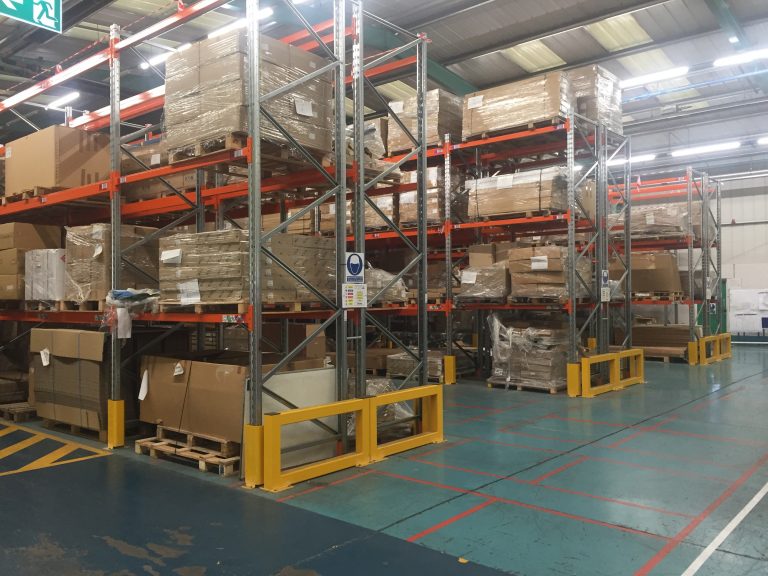 Wide aisle pallet racking is ideal for warehouses that require unrestricted access to all pallets and utilise conventional forklift trucks. Each pallet is individually supported and independently accessible.
Pallet racking arranged in a wide aisle pattern, with a minimum of 3 metre wide aisles, requires no specialist handling equipment. Wide aisle racking can be operated with either a reach or counterbalance truck.
A limitation of using counterbalance trucks is that the racking height is restricted to the maximum lift height of the trucks.
Racking arranged in this way gives a high-quality storage solution but may only utilise 40% of the available floor space, the rest being aisles. However, as it enables fast throughput and ease of loading and unloading wide aisle racking is an extremely popular option.

3.0 - 4.0 metres

40% Space Utilisation

All Pallets Accessible

High Throughput Speeds

Standard Forklift Trucks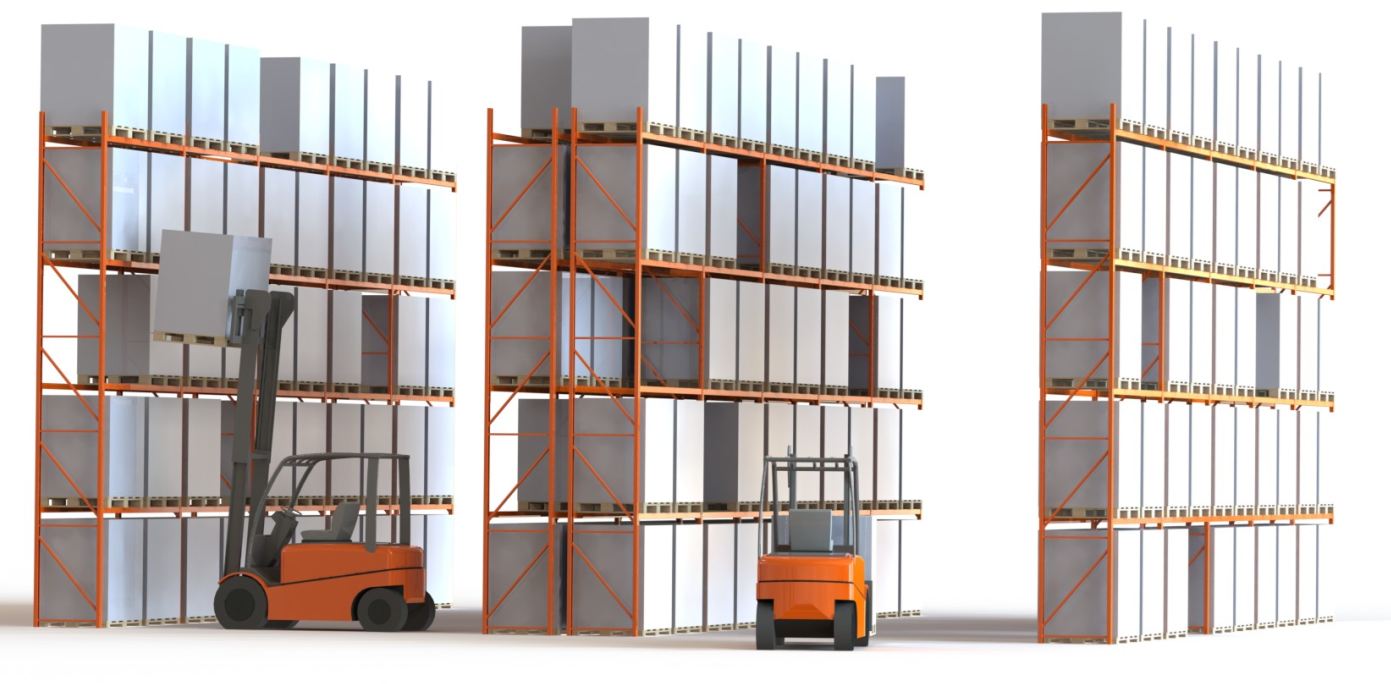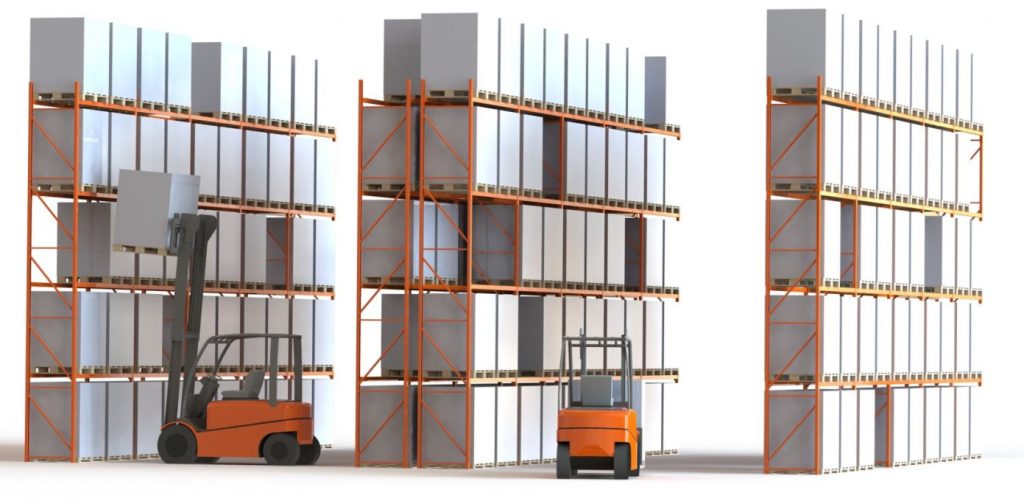 Industrial Pallet Racking
Designed to meet the specific needs of your warehouse or yard area and individual stock holding requirements. Wide aisle pallet racking is the most frequently utilised system for storing palletised unit loads. Manufactured and supplied in either single sided or double sided runs, Redirack wide aisle adjustable pallet racking offers direct access to every pallet. Adjustable at a 75mm pitch this durable system offers the flexibility to accommodate a range of pallet sizes. Racks can be reconfigured to suit any ongoing changes to your stockholding requirements.
Please note – any changes to configuration of racks are subject to check's with Redirack's technical department to ensure continued on site safety is maintained.
Our experienced team at Redirack have the design and manufacturing capabilities to meet your exact storage needs. From wide-aisle pallet racking right through to very narrow aisle pallet racking systems, our engineers will guide you through the entire process. Our full range is manufactured in the UK in accordance with the SEMA (Storage Equipment Manufacturers Association) Code of Practice for the Design of Adjustable Pallet Racking and can also be offered as a design conforming to BS EN 15512:2020.
To find out more contact us on 01543 279543, Email : sales@redirack.co.uk or book a site visit.
Frequently Asked Questions
As the most extensively utilised industrial storage system for warehouses and yards, Redirack's wide aisle pallet racking is manufactured in both standard duty and heavy-duty steel. Our systems are suitable for the storage of the majority of palletised goods including food, ingredients and beverages, retail and 3PL applications as well as building and construction products.
Our technical engineers will visit your site and identify how to maximise the available storage area ensuring that pallet racking in a wide aisle configuration will meet the specific storage needs of your site.
Wide aisle pallet racking is manufactured from cold rolled steel sections and comprises of vertical upright posts which have beams attached at variable levels. A pallet racking bay has two frames with beam levels which are dependent upon the height from the floor to the first beam level as well as the height of the uprights.
Wide aisle systems are available in both double-sided and single-sided configurations. Double-sided racking allows access to pallets from either side, and can be used throughout the warehouse, creating storage space on both sides of the structure. Single-sided racks can be free standing for access from both sides or can fit flush against the wall and access to pallets is obviously only from one side.
We do not recommend single bays due to the reduced stability of the racking structure and would generally advise against this if possible as bay that only has one pair of beams is fundamentally far less stable than a run of bays.
Redirack offer a broad range of rack frames and beams our technical engineers are able to offer a solution whatever the storage issue.
Redirack have their own in-house teams of installers that are very experienced at ensuring your racks are installed both correctly and to SEMA (Storage Equipment Manufacturers Association) guidelines. Our installers are all SEIRS (Storage Equipment Installers Registration Scheme) registered, from advanced skills through to site management capability. We have our In-house SARI inspectors (Sema Approved Rack Inspectors) which means Redirack offer a complete service from assessing your site needs and inspections through to manufacturing and finally installation of your racks.
Book a Site Visit or Request a Quote
We design a solution and offer a competitive price.
Contact us for a site visit or request a quotation.
Our range is manufactured in the UK and installed by our in-house SEIRS (Storage Equipment Installers Registration Scheme) installation teams.