In the food and beverage industry it is crucial that accuracy and efficiency are part of the day to day process, to ensure that high volume perishable and none perishable goods are handled proficiently. When warehouse food storage systems are inefficient, they can compromise revenue by causing waste, and can damage customer relationships over a long period of time.
Whether you supply direct to a consumer, wholesale or are an e-commerce business, having specialist pallet racking implemented in your warehouse will improve your picking and packing processes, whilst fully maximising your available space.
It is common for food and drink warehouse owners and storage providers to handle a wide range of storage temperatures, respond to high turnover of stock, maintain hygiene standards and ensure product traceability every day. Therefore, Redirack provide a range of food storage racking solutions which are versatile enough to be tailored to suit your specific storage needs and help you comply with regulatory requirements.
Cold Store Pallet Racking
The food industry relies heavily on cold storage warehouses, both to store chilled and frozen food products to keep perishable goods fresh.
If you have a cold storage warehouse, we understand the costs and expensive outlay involved in the energy it consumes. This is why investing in high quality food storage racking to maximise your storage capacity, makes sense not only for organisation and ease of product rotation, but also to get the most out of your space that is costing you the most money to help you bring a significant return on your investment.
Pallet Racking Options for Food Storage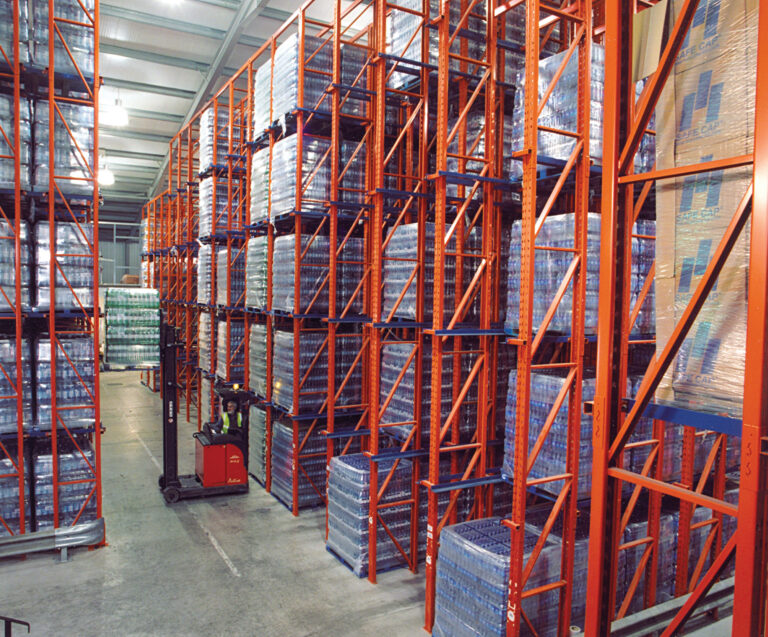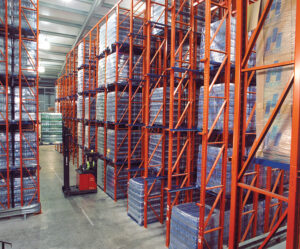 Drive-In Pallet Racking –
Provides maximum pallet storage through a high-density racking system. Suitable for warehouses with lots of bulk goods such as seasonal goods and low stock rotation. Operating on a first in, last out (FILO) basis, this type of drive-in pallet racking is suitable for products with a longer shelf life.
These storage systems are most commonly used for cold storage, chilled storage or bulk storage.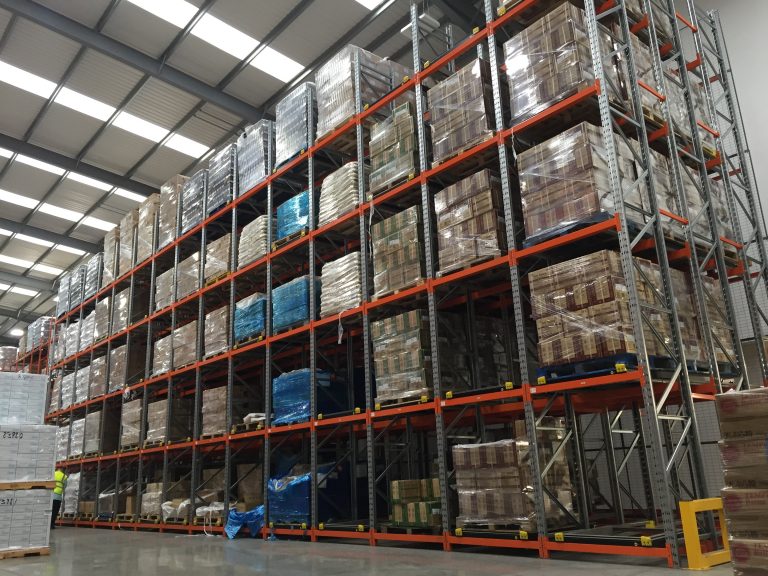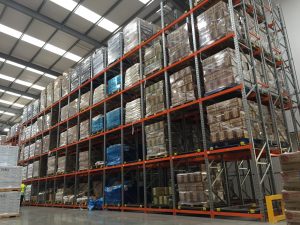 Pushback Racking –
Functions on a roller bed or cart system integrated within the racking, push back racking increases pallet selectivity compared to drive-in racking. It operates on a last in, first out operation (LIFO) suitable for the storage of bulk products with a smaller storage area.
Pushback racking can also be suitable for high pallet counts with a medium turnover SKU count but a need to densify where a single picking aisle maximises the available space. Suitable if you require more agile operations to reduce the risk of damage to food caused by forklift trucks as they can be retrieved from the front, removing the need for the forklift to drive into the lane.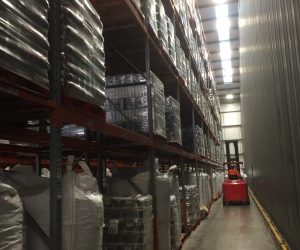 Narrow Aisle Pallet Racking –
Best suited if you are limited on space as narrow aisle racking can free up between 30-40% of your floor space usually taken by standard racking systems.
A combination of pallet racking systems can be combined in a single cold store storage facility to meet the requirements specific to a type of product and operation.
Advantages of Food and Cold Storage Racks
- Can optimise storage space by providing the greatest possible capacity with high density options
- Maximises the installations throughput by speeding up the handling of goods by reducing picking times and increasing accuracy
- Allows direct access to products where needed, saving time and simplifying operations
- Ideal for storing a wide variety of palletised stock
- Can be adapted to your warehouse specification
- The dense storage reduces the amount of space required to chill resulting in reduced running costs.
- Fully operational at temperatures from -30 to +40c
- Galvanised finish which prevents rust even at low temperatures and if you experience condensation issues